Annual Spring Production Sale
March 25 – Sulphur, OK
Artesian Hotel. –   live on cci.live
OUR PASSION. OUR GOAL.
WELCOME to the Annual Conley Cattle and Penner Ranch Bull Sale held in conjunction with the Pick of The Day Commercial Female Sale that includes late Fall Pairs, Spring Pairs and Spring Breds. We invite you to be with us on Saturday, February 11, 2023 in Ada, OK at the Southern Oklahoma Livestock Auction (SOLA). We have 61 Angus, Simmental, and Sim-Angus bulls for your appraisal this year. We have several new sire groups this year that stem from former sale features and the most prominent AI sires in the Angus business today. There will be 7 featured sons of Conley Verified 0853, the feature high seller in the 2021 National Angus Bull Sale held during the Cattlemen's Congress, 6 featured sons of Conley Lead The Way 0738, a bull that has gained in popularity as his progeny have topped sales across the country this past fall, 3 featured flush mate brothers all sired by the Genex AI leader DB Iconic G95. We feel we have a strong set of beef bulls for your appraisal as they check a lot of boxes from an EPD standpoint, excel in phenotype and are backed by some of the most prolific dams in the breed from a maternal standpoint. All of these bull were developed on the ranch, have been parent verified, and have genomically enhanced EPDs. Jason Day, of Pick of The Day Farms, has once again assembled a top notch set of commercial Angus females that will have calves at side and will be bred to both Conley Cattle and Penner Ranch bulls. 60 of the females will have calves at side that were born in November and December and will not have had any service back prior to sale day. There are 285 Spring bred commercial females due to start calving around sale day so there will be a few new babies at side as well. I certainly want to thank my family and the crew at Conley Cattle Co. as like most operations we have a lot of moving parts going on a daily basis, and I cannot thank them enough for hard work and determination. We look forward to your appraisal of this year's offering as we feel have put our best foot forward in producing bulls that will go out and make you, the producer money. The cattle will be available for viewing anytime at Conley Cattle Co. up until Friday, February 10. Then the cattle will be available for viewing at Southern Oklahoma Livestock Auction in Ada, OK. If you have any questions feel free to contact myself or Harris and we would be more than happy to answer any questions you have about the offering.
-Kyle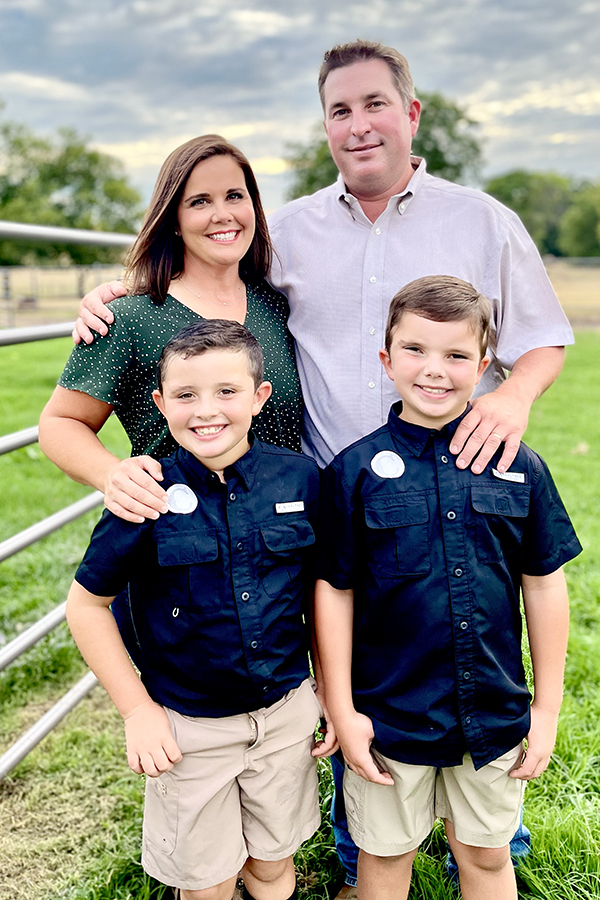 CONGRATULATIONS!
Congratulations to Ferree/Fitzgerald on Supreme Champion Female!
2023 Cattlemen's Congress
Sulphur, OK
Conley Cattle Spring Production Sale